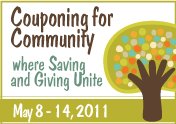 May 14 this year is Stamp Out Hunger Day. In conjunction with that, Kaley at
ChaChing on a Shoe String
is hosting the 2nd annual Couponing for Community.
Couponing for Community is a chance for couponers (whether you're a regular couponer or not) to take from the abundance they have from coupons and give back to people without. This is something that really means a lot to me now, since
I met that woman at Starbucks
.
The goal is to give away 10,000 items to those in need and to keep track (and connect everyone), Kaley set up a
Facebook page
for it.
So what can you do? Well, you can give! Give from you stockpile. Give from the coupons you have (Check out my
Drugstore Donation List
for ideas). Pick a place to donate (personally, I give to
The Connection
, my former church. They, in connect with the
San Diego Food Bank
, host a monthly food bank on site.) Then share on the Facebook page what you gave.
This is for everyone, blogger or not. If you're a blogger, I suggest you join up on your blog too!
As for me, I'll be sharing both here and on the Facebook page!